The NCEM is delighted to be able to welcome back participants for Cuppa and a Chorus! Led by experienced community musician Chris Bartram, sessions will give you the chance to sing some of the songs you know and love and explore new ones from around the world. You don't need to have sung before or consider yourself musical, just enjoy taking part and singing with other like-minded people.
You'll also be able to enjoy the all important Cuppa in the break so you can chat to friends, new and old.
SESSION DATES & TIMES
Sessions take place once a month from 2.00pm - 4.00pm. Upcoming dates -

Monday 27 November
Monday 18 December
Monday 29 January
Monday 26 February
Monday 25 March
Monday 29 April
Monday 20 May
Monday 17 June
Monday 15 July
If you have any questions about attending a Cuppa & a Chorus session please get in touch with us on education@ncem.co.uk.
What our participants say about online Cuppa sessions...
'This afternoon was lovely. It was such a positive and uplifting experience. Chris was great as usual and explained everything very clearly. The final song brought a tear to my eye. Thanks a million to both of you'
'Feel so much happier after a couple of hours with you and Chris et al.'
'The whole session was such fun and gave us all the chance to see and hear a crowd of familiar faces\voices. It is also brilliant to have a specific time for an activity.'
'You heard our prayers and wishes. Well done'
EVALUATION
In 2019 we evaluated Cuppa for a second time, to see the impact it had on participants wellbeing, using the Manchester Colour Wheel. We were so pleased to see the positive results that came out of this, showing once again that we are regularly making a difference, by lifting the mood of those who attend Cuppa.
The results showed that before the Cuppa and a Chorus sessions, 16% of participants chose 'positive' colours, 67% chose 'neutral' colours and 17% chose 'negative' colours. The data collected after the sessions showed an increase in the percentage of 'positive' colours selected by participants with 40% selecting 'positive' and 60% selecting 'neutral' colours. The most significant outcome here being that no participants selected 'negative' colours after the sessions. See below for a bar graph of results.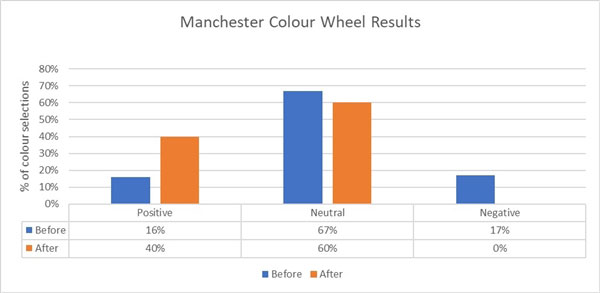 We also collected thoughts and feelings of participants using a word cloud. The results from the 'before' word cloud demonstrated that many of the participants had been experiencing negative emotions before taking part in the session, with the larger words in the cloud representing the words that were stated the most. In addition to this, it was positive to see that some were looking forward to the session, feeling excited in anticipation. The 'after' word cloud then demonstrates that the session left participants with more positive emotions, feeling energised and happier. See below for the word clouds.
Thank you to our supporters
The Purey Cust Trust
Sylvia & Colin Shepherd Charitable Trust
The NCEM is available to hire for anniversaries, birthday parties, wedding receptions, conferences, dinners and musical events.