During the Covid-19 crisis we are taking Cuppa & A Chorus online as we continue to offer an opportunity to sing in a relaxed environment and enjoy a cup of tea, a piece of cake and a friendly chat!
Led by experienced community musician Chris Bartram, sessions will give you the chance to sing some of the songs you know and love and explore new ones from around the world. You don't need to have sung before or consider yourself musical, just enjoy taking part and singing with other like-minded people.
SESSION DATES & TIMES
Sessions take place every other Monday from 1.45 - 3.15 - To book your place please click here
To think about when using Zoom: This event allows you to interact using your webcam and microphone. Please remember to warn other members of your household that you are broadcasting and check that you are happy for your background to be visible. We recommend that you use first names only, and that you don't include anything that identifies your home address. Remember that you can switch off your camera and/or microphone at any time.
EVALUATION
In 2019 we evaluated Cuppa for a second time, to see the impact it had on participants wellbeing, using the Manchester Colour Wheel. We were so pleased to see the positive results that came out of this, showing once again that we are regularly making a difference, by lifting the mood of those who attend Cuppa.
The results showed that before the Cuppa and a Chorus sessions, 16% of participants chose 'positive' colours, 67% chose 'neutral' colours and 17% chose 'negative' colours. The data collected after the sessions showed an increase in the percentage of 'positive' colours selected by participants with 40% selecting 'positive' and 60% selecting 'neutral' colours. The most significant outcome here being that no participants selected 'negative' colours after the sessions. See below for a bar graph of results.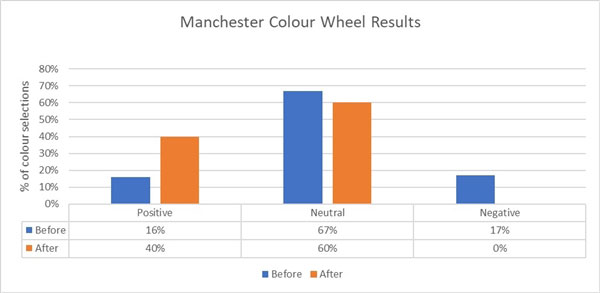 We also collected thoughts and feelings of participants using a word cloud. The results from the 'before' word cloud demonstrated that many of the participants had been experiencing negative emotions before taking part in the session, with the larger words in the cloud representing the words that were stated the most. In addition to this, it was positive to see that some were looking forward to the session, feeling excited in anticipation. The 'after' word cloud then demonstrates that the session left participants with more positive emotions, feeling energised and happier. See below for the word clouds.
Comments from participants about their experience at Cuppa
'Lovely group thank you - good tonic at a time that is not so bright!'
'Life enhancing experience'
'It was such an uplifting experience, I haven't sung in a group since school and I'm nearly 50!'
'This improves my mood even more in the winter when it's dark and cold'
'It is wonderful to sing unaccompanied and meet other singers - Chris is amazing'
Thank you to our supporters
The Purey Cust Trust
Coronavirus Community Support Fund distrubted by the National Lottery Community Fund
The NCEM is available to hire for anniversaries, birthday parties, wedding receptions, conferences, dinners and musical events.